Covid - 19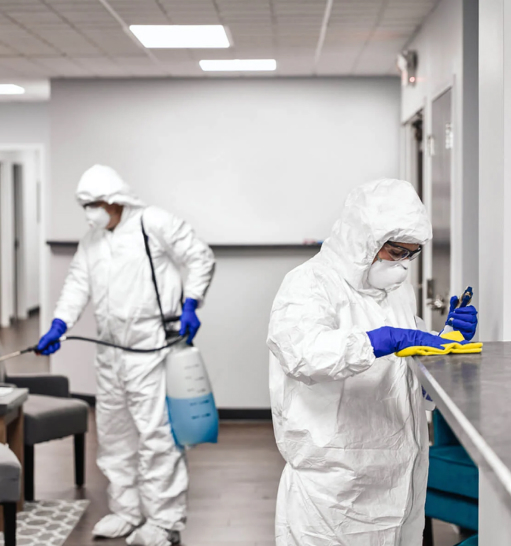 Covid measures with HiLo Commercial Services
HiLo Commercial Services is a market leader in cleaning services in Tennessee, offering advanced disinfection solutions that will ensure the comfort and cleanliness of your property.
To prevent the spread of Covid-19, we disinfect any real estate and premises of any industry, starting from schools to manufacturers.
Our team of cleaning experts against COVID-19 offers:
Expertise in systematic cleaning methods with specific knowledge as an industry leader in infection prevention.
In-depth knowledge of CDC guidelines and what is required to be compliant
Advanced cleaning and disinfecting methods cover your facility from floor to ceiling with hospital-grade products.
Top-of-the-line proprietary chemicals and disinfection processes to increase infection protection on high-touch surfaces.
Emergency Cleanup Services From Coronavirus After An Outbreak
When an employee tests positive for COVID-19, HiLo Commercial Services can help you reopen quickly. We provide a quick response for a COVID-19 disinfection service and excellent care from a team equipped with advanced tools and technology guidelines to reopen your facility safely. Our training is based on national experience, sanitizing and cleaning rules.
Why is it important to clean more often during an epidemic?
COVID-19 is mainly transmitted through the air.
Recent data show that the virus can live on surfaces from a couple of hours to several days. Cleaning surfaces in the house, airing, and wet cleaning are among the methods of preventing influenza, SARS, and coronavirus.
We know how to protect loved ones from the epidemic, and we share this experience with you—order services from the HiLo Commercial Services company. Let's fight the virus together.
So that you can work and live in a safe environment and quickly get out of quarantine without fear for your health and the health of your employees, we are implementing the most effective anti-virus prevention complex in the fight against COVID-19: thorough cleaning and deep disinfection of premises.
HiLo Commercial Services offers:
Cleaning and disinfection services according to ISO standards and sanitary standards
Registration of the application and miscalculation as soon as you need it
Work at the facility with protective equipment
Work with certified means
Professional selection of a disinfection method based on the specifics and volume of a room or other object
Disinfection of offices and commercial facilities
The organization of a full range of measures for the disinfection of offices, shops, industries, network facilities, and industrial enterprises is aimed at destroying the causative agent of coronavirus infection.
Scientists have already reported that the virus cannot only be on surfaces but also remain in the air for up to 3 hours. Disinfection is needed to ensure that the staff will come to a spotless, decontaminated room. If employees visit work regularly, preventive disinfection should also be repeated.
We Covered

States across the country

We Handled

Tasks for the year
Antivirus Cleaning Services
To reduce the risk of infection and protect yourself, take care of the health of others - ordinary quarantine measures are not enough - professional and regular cleaning and disinfection of premises are necessary.
HiLo Commercial Services with disinfection or ozonation has become the standard, after which people can return to the premises within an hour.
Disinfection is carried out by means that meet the requirements of sanitary standards.
24/7 Online Support
Get immediate quotes & book cleaning service.