Offices

Offices cleaning services in Tennessee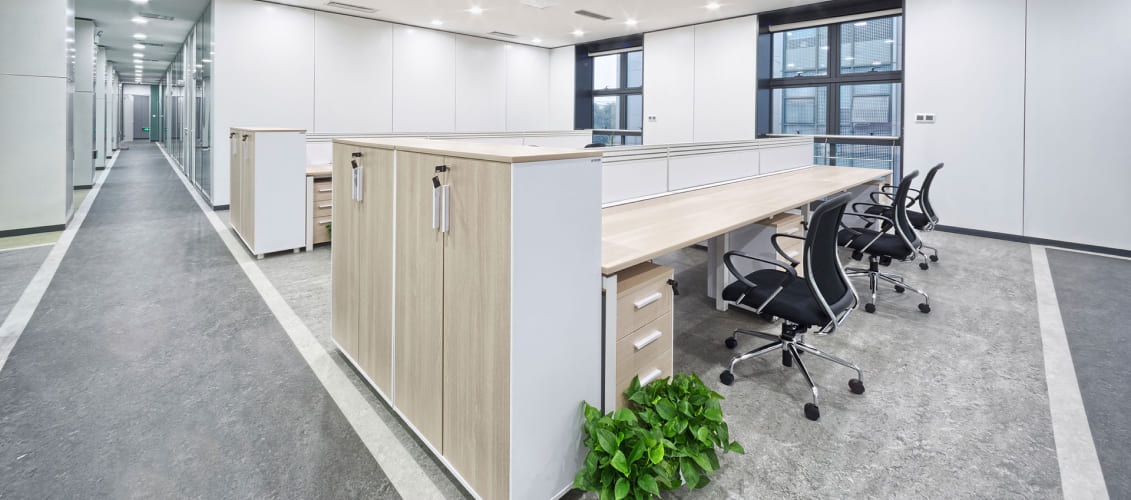 Timely cleaning in the office guarantees the health of employees and the company's success because this is not only a working space but also a meeting place with business partners. A clean office environment is a manifestation of respect for visitors and partners, emphasizes the image and personifies the company's status, and reflects the business's level of significance.
Cleaning office space is necessary so as not to spoil first impressions and not nullify all the efforts due to a dusty table, stains on the curtains, or cobwebs in the corner. The attitude towards the working environment of one's team mirrors the attitude towards business, and cleanliness and order are considered the main factors that trigger successful activity.
HiLo Commercial Services offers office cleaning, that is, prompt and high-quality cleaning in any commercial and administrative buildings in the state of Tennessee. Only qualified, responsible personnel who have undergone special training and internships are allowed to work.
We are responsible for the quality of work and fully fulfill our obligations. Our experienced cleaners pay special attention to caution and accuracy because there is expensive equipment in the room. We guarantee a careful attitude to the equipment and, the complete inviolability of the documents left, the preservation of confidentiality and trade secrets.
Using our cleaning services, the customer gets the opportunity to:
choose the most convenient days and times for cleanliness;
order only necessary cleaning measures;
save on professional chemicals and special equipment.
Regular cleaning of offices can be done every day or weekly:
removes dust and visible dirt from all surfaces;
office equipment is cleaned with special wipes;
dry and wet cleaning of floors is carried out;
garbage bags are replaced, and garbage is taken out.
General cleaning of offices is usually carried out by a team of cleaners and includes a broader range of cleaning activities:
removal of dust from frames, interior items, and equipment;
dry cleaning of office furniture;
deep removal of difficult stains;
cleaning glass and mirror surfaces with high-quality glass cleaners;
cleaning carpets from dust with a vacuum cleaner;
elimination of pollution in hard-to-reach places;
wet wiping of the floor and skirting boards;
washing of doors, platbands, handles, switches, polishing of accessories;
cleaning of radiators, pipes, and cabinet furniture (external and internal, if they are free from things);
washing windows, chandeliers, sconces, and other lighting fixtures;
cleaning of air conditioners blinds;
collection and removal of the garbage.
HiLo Сommercial Services works according to the latest standards. We guarantee that the cleaning will be high-quality, convenient, and fast. We love our work and always do it with pleasure.
Frequently Asked Questions
How much does office cleaning cost?

The cost depends on the area of the premises, the volume of work, and the intensity, that is, how many times a week/month the offices will be cleaned.

What products do you use while cleaning?

We work with professional detergents that are harmless to health. Office cleaning is carried out with the help of the modern best equipment: washing machines, vacuum cleaners, steam generators, and several special cleaning devices. We use only certified chemistry, the quality of which is confirmed by the relevant documentation. High-quality chemicals are hypoallergenic, safe for people of all ages, and do not cause allergic reactions. All surfaces will be washed to perfect cleanliness.

What payment methods do you accept?

We accept both cash and non-cash payments that are suitable for a client.

How fast do you clean?

It depends on the area of office and utility rooms and their pollution. Maintenance cleaning of an office up to 40 m² lasts about 2 hours.
States We Have Serviced So Far
Alabama (AL), Arkansas (AR), Georgia (GA), Kentucky (KY), North Carolina (NC), Mississippi (MS), Missouri (MO), Virginia (VA), South Carolina (SC), Tennessee (TN), Texas (TX)
Contact Us Right Now!
We operate in more than 5 state including Tennessee, Arkansas, Alabama, Georgia and more! HiLo Commercial Services care for the places and spaces that mean the most to our clients! Contact us to get an instant quote.