Production line cleaning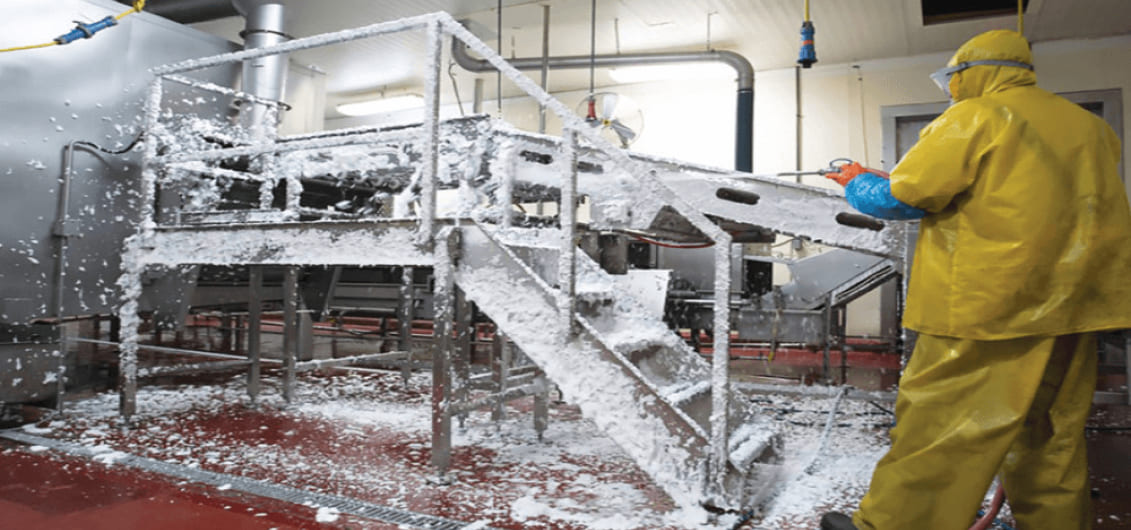 HiLo Commercial Services company cleans equipment in all industries, from food to heavy industry. For each company, cleaning methods are individually selected to ensure maximum efficiency and safety of cleaning.
Depending on the production process's specifics, the contamination's nature, and the type of equipment, HiLo Commercial Services specialists will develop and implement innovative cleaning technologies that meet the conditions at the customer's enterprise. We use high-pressure hydrodynamic cleaning, dry abrasive blasting, pyrolysis, dry ice blasting, and other state-of-the-art methods for maximum effect.
All industrial units have their resource. However, the cleanliness of mechanisms and assemblies affects their service life and the quality of manufactured products. Professional equipment cleaning in Tennessee is carried out quickly and efficiently by our HiLo Commercial Services company. We will help bring all the machines in your production to a controlled functional state.
Cleaning machine tools and other production equipment are carried out using modern methods, including hydrodynamic, chemical and sandblasting, soda blasting, and jet techniques using abrasives and dry ice.
We are approached by enterprises operating in the food, petrochemical, metallurgical, transport, energy, and other industries. We carefully select methods for cleaning equipment, depending on its specifics and production features. Our professionals solve even the most difficult tasks, providing brilliant results.
What do you get during production line cleaning service?
Our specialists encounter typical contaminants when cleaning equipment: various types of scale, soot, and soot, deposits and oil and fat deposits, rust, polymers, fuel combustion products, biological traces, etc. We have innovative detergents and cleaning agents in our arsenal, which we carefully select to obtain a satisfactory result without damaging systems and coatings.
You can order from us:
cleaning of industrial and conveyor lines, robotic devices, metal structures and presses, painting plants and booths;
internal cleaning of components and mechanisms before installation and repair work;
preparation of products for painting or any further processing;
dust removal and removal of all types of deposits on technological equipment to increase the efficiency of installations;
cleaning of pipelines, ventilation, and air conditioning systems.
This is only a part of the tasks our specialists can successfully handle at a convenient time for you. We draw up a comfortable schedule that does not interfere with the work process at the enterprise, and we always strictly adhere to the agreed deadlines.
Our staff consists of specialists of various profiles. They have cleaned equipment professionally throughout the state of Tennessee for many years.
If you need cleaning of industrial installations right now, please get in touch with us. We have everything that allows you to quickly and efficiently complete tasks.
Our benefits:
Save time and finances
You do not have to invest in permanent training staff and purchasing specialized equipment and chemicals. The prices for our services are affordable.
High speed
The manager develops a well-thought-out scheme of processes so the team operates smoothly, efficiently, and quickly under his strict control and guidance.
Perfect result
We provide a long-term guarantee for the entire list of work performed.