Commercial floor stripping services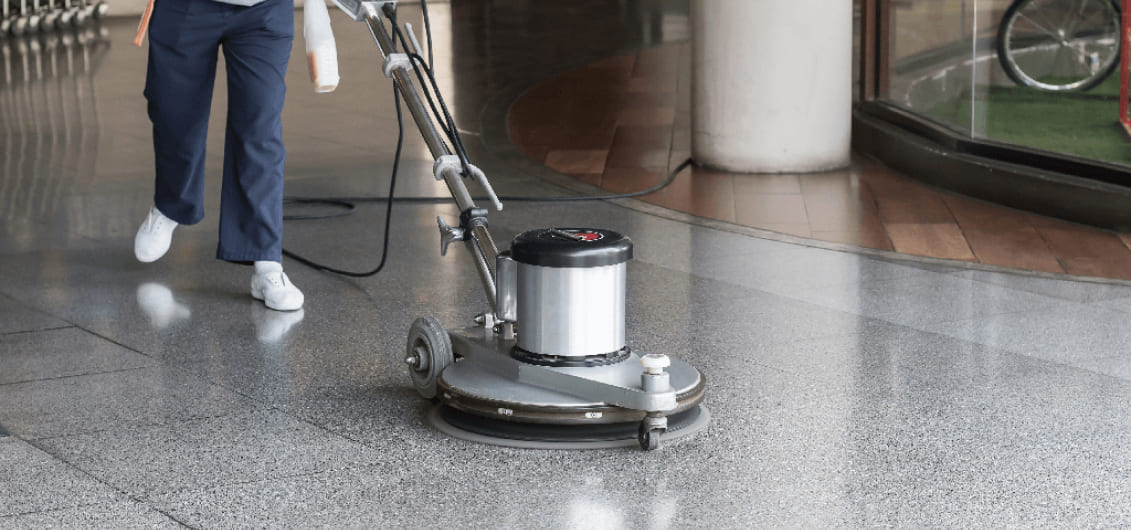 Over time, hard floors, which include floors made of marble, granite, covered with parquet boards, linoleum, vinyl, and tiles, wear out and lose their appearance. Floors require professional care, which involves periodic cleaning and processing using professional chemicals and special equipment.
As a result of proper care, the floors acquire their original shine, enhancing cleanliness. HiLo Commercial Services company performs all types of cleaning, restoration, protection, and maintenance of hard floors in perfect condition.
Our specialists clean floors (washing) using a rotary machine and a vacuum cleaner to collect water and wet dirt, using acid and alkaline products. Dry coatings cleaning removes various kinds of stains, cement, and lime deposits before applying polymers. After cleaning hard floors, they polish them, during which stains are removed after washing, and the surface is rubbed to a shine.
Cleaning floors from construction and persistent dirt
HiLo Commercial Services has accumulated considerable experience in deep cleaning floors, allowing you to remove any dirt, including after-construction work. On your own, you are unlikely to be able to get rid of the dust, dirt, and cement residues that have been eaten after the completion of construction. For deep cleaning the floor, our specialists use a rotary single-disc machine and deep-penetrating agents that dissolve even the oldest dirt, and the surface will not be damaged. Spend your energy, and the effect will be zero.
What is included in floor stripping services?
Floor cleaning includes several works, the purpose of which is to remove all dirt, including stubborn dirt, return the coating to its original appearance and protect the layer from external influences. When washing out, professional detergents remove dirt particles from the surface and the pores of the material being processed. Floor scrubbers, rotary single-disk machines, and vacuum cleaners collect the used cleaning solution.
This type of cleaning allows you to remove most of the known general and local contaminants, as well as recreate the original appearance of the coating and extend the life of the worn surface. After this operation, the consumption of detergents is minimized for daily cleaning.
Qualified specialists of HiLo Commercial Services are provided with branded uniforms, professional detergents, and modern cleaning equipment, which allows us to provide high-quality service without a significant investment of time.
If you still have questions for us, then fill out the form below or dial us to contact our specialists. We will help you!
Our benefits:
Experienced Team
Our experienced and trained team knows exactly how to handle floor stripping requests. We will be more than happy to help.
Professional Equipment
We use only the best equipment for your cleaning needs that are available on the market. You don't have to spend your money on additional equipment.
Quality Guaranteed
HiLo Commercial Services guarantees the best quality of our services for your business.