High pressure steam cleaning services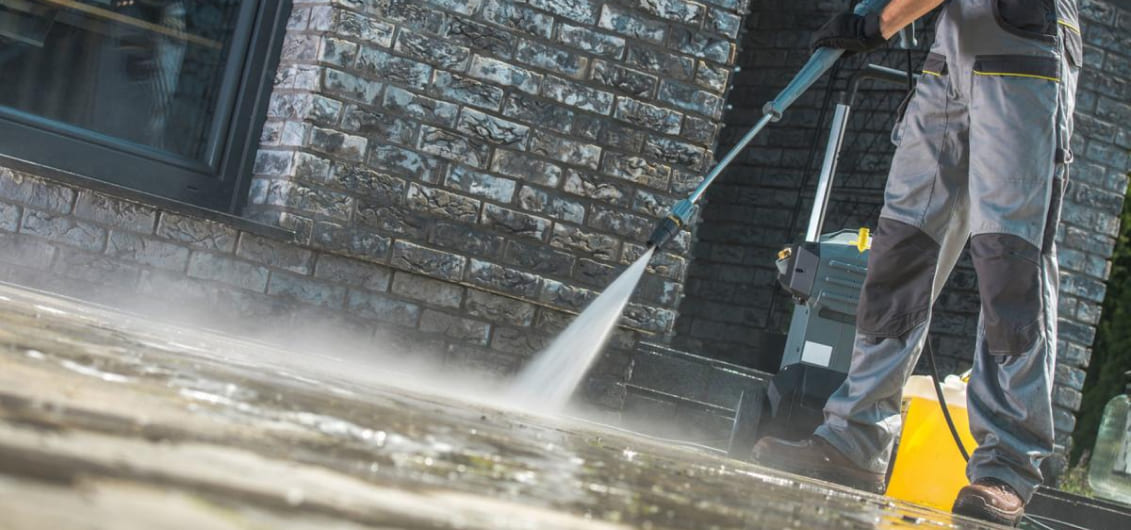 High-pressure steam cleaning of facades is a highly effective, safe, and environmentally friendly cleaning method. The high-pressure steam treatment method is used when it is necessary to clean atmospheric deposits without dust, dirt, and additional waste. When it is required to remove old facade paint, where abrasive blasting methods are not applicable, high-pressure steam is the most effective compared to other methods.
Using a high-pressure steam generator allows you to qualitatively clean surfaces from complex contaminants: soot, fats, old paintwork, oils, etc. Also, this method has a disinfecting effect due to the high temperature of the steam.
HiLo Commercial Services is ready to carry out high-pressure steam cleaning of your desired surface or equipment.
What applications is a high-pressure steam generator suitable for? We use this equipment when it is necessary to quickly and efficiently clean surfaces after a fire – remove soot, soot, soot, and damaged finishing materials. And also, in cases where it is needed:
Remove old paint from the facade of the building, where it is impossible to use a hard abrasive;
clean surfaces from dust, dirt, and fats in rooms where such work must be carried out without dust and hazardous chemical waste;
eliminate various contaminants from industrial and production equipment;
quickly explicit construction sites and pits of snow and ice;
High-pressure steam generators are relevant both in the industrial sector and for cleaning facades or residential premises, especially after a fire. In addition, this technology has high disinfectant properties, which makes it available for use in food production shops.
Why is HiLo the best company for high-pressure steam cleaning?
If you need high-quality cleaning with a high-pressure steam generator, then contact us because we:
We work for your convenience, under the contract, strictly within the framework of the estimate, and without prepayment. We provide services to individuals, legal entities, and enterprises of Tennessee.
We use only certified and professional high-pressure steam generators.
We provide teams of experienced professionals who will perform all the work with high quality and by the time you need.
Cleaning with a steam cleaner has many advantages:
No need to use harmful chemicals – this is especially true for kindergartens and schools;
Safety – the device is protected from burnout, there is an adjustment of steam pressure, and the structure of the unit prevents hot steam from contacting the skin;
Degreasing the surface – the pressure of the jet of dry steam destroys the adhesion of fatty contaminants;
Disinfection of enterprises and premises – high-temperature steam kills most harmful bacteria.
Areas of use for steam cleaning:
Steam cleaning treats floors, polymer coatings, stainless steel, and glass products. A steam cleaner is also indispensable in the care of textiles. The most critical and effective cleaning method is high-pressure steam in the food industry. In addition to cleaning from soot, oil, and fat deposits, smoke ultimately kills all possible bacteria and microbes.
High-pressure steam in the winter season allows you to effectively clear snow and ice from pits for pouring concrete at construction sites. In addition, it is advisable to use an air compressor to drive the remaining water with air.
Do you have any questions? Call us right now, and we will answer them. We will also tell you in detail about the service's advantages and accepting an application.
Our benefits:
Environmental approach
Steam cleans environmentally - without using cleaning agents and with low water consumption.
Cleaning every spot
Steam ensures hygienic cleanliness – even in hard-to-reach places. It's an excellent choice for environmentally friendly cleaning.
Various services
The steam can be used in various ways, from cleaning the kitchen and bathroom to cleaning windows, ironing, and caring for textiles.