Light fixture cleaning services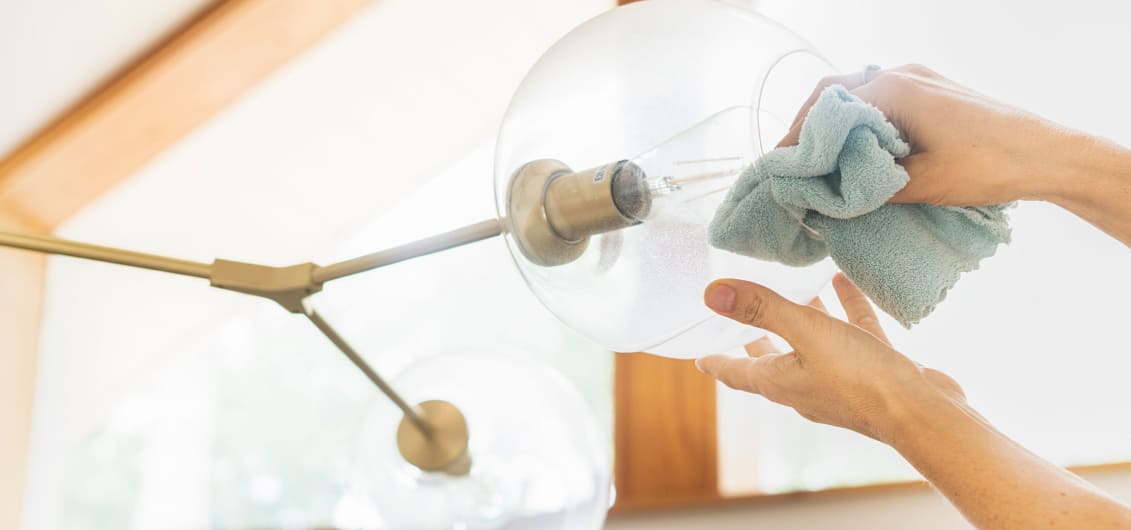 The productivity of the company's employees largely depends on lighting, so caring for lamps is one of the most critical moments in cleaning, especially in the office and production. Cleaning and washing fixtures is a rather laborious process since lighting fixtures are usually located in hard-to-reach places. They are also very fragile, so they must be handled carefully. Our experts, in a short time, will select the cleaning method and the type of professional chemicals suitable for your lamps, and cleaning specialists will provide decent lighting that you no longer have to worry about.
Modern chandeliers are artsy pieces with beautiful and fashionable designs. They become not only a source of light in the room but also a bright highlight in the interior. But, unfortunately, it is on them that a lot of dust and various contaminants are collected. Due to the inconvenient placement, it is difficult for a person to maintain the fixtures' cleanliness constantly. But there is a way out!
HiLo Cleaning Services invites you to try its service in action – cleaning chandeliers and lamps. Entrust this painstaking and tedious work to our specialists. HiLo cleaners will quickly put your chandeliers and lights in order, remove dust and dirt from them, and polish them. All processes are carried out carefully and accurately. Only professional products are used for cleaning, from which glass and crystal do not tarnish. They are entirely safe for human health and the environment.
Employees of the HiLo Commercial Services have a lot of experience in this field. They are great for cleaning woven lamps, Bohemian glass chandeliers, expensive crystals, and other complex items that require thorough cleaning.
What we do during light fixture cleaning
The procedure for cleaning chandeliers and lamps includes the following operations:
dry cleaning with soft cloths;
wet cleaning with high-quality detergents;
manual washing of individual elements of chandeliers with a large number of small parts;
polishing of the entire lighting fixture;
For porcelain, glass, and ceramic lamps, wet cleaning or washing is better, but synthetic ones are recommended to be wiped with a damp cloth and then dry. Crystal is cleaned both dry and wet. Our experts will advise you in detail about cleaning chandeliers and lamps in your room.
Benefits from HiLo cleaning:
The specialists of our company, performing cleaning services at the height of more than three meters, adhere to the current safety rules, which is especially important if there are people in the room and the washers, as well as if there are expensive interior items and equipment. The specialists of our company engaged in work at height have passed all the required training and have all the permits for implementing such work.
If you need to wash several large chandeliers, we can provide several teams of cleaners to complete the order promptly.
Our advantages:
Property security guarantee
Our employees are professionals, so we can guarantee that everything that needs to be cleaned will be safe.
Individual approach
Our specialists will professionally select a chemical agent suitable for the material for subsequent cleaning of the fixtures.
Efficiency
We value the client's time and try to provide a high level of service, so all orders are promptly processed and completed as soon as possible.